Overcome the fear of interviewing and achieve successful results from job interviews!
Sometimes nerves dominate and prevent you from showing who you really are. I approach "Elevator Pitches" and interviewing techniques within the context of real life scenarios offering practice and confidence building tips to overcome "pressure to perform". For many job seekers, nerves can be disabling. Many times, as soon as candidates walk through a door to an interviewer's office, cold sweat starts to trickle down the brow, minds start to freeze, and when asked simple questions like "Why would you be a good fit for this opportunity" or "Where do you see yourself in 5 years", candidates can feel like they are back in school, feeling overwhelmed or intimidated and suddenly become incapable of answering questions with pride, enthusiasm and confidence.
Actors refer to this as stage fright. During preparation stages, many people just wing it and say, "I am just going to be myself." Then, when they are finally in that room, they clam up. We comfortably work with all kinds of personalities and styles, because having strong planning sessions and confidence in preparation techniques, definitely leads to success and offers.
The Elevator Pitch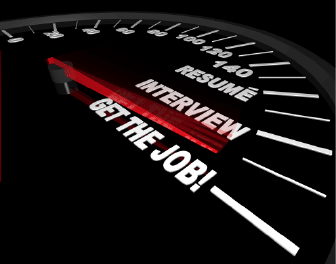 I have personally worked with hundreds of job seekers on the phone, using skype and in person to practice role playing. Everyone should expect an interview to include a 30-45 second response to the question, "Tell me about yourself" or "Why are you interested in this opportunity". The first step is to identify the message you are going to share, then we practice the delivery, many times over while including personal attributes of interest and showcasing your strengths and passions in a dynamic manner, in order to keep the interviewer listening without having their minds wander.
Our methods are proven to work because we begin slowly and progress only after each part of the role-playing is successfully delivered and understood. Interviews are much more than how questions are answered or how skills are communicated. From the second that a candidate walk through the door, shakes hands and sits down you have to be perceived as a real person.
Because interviewing is one part factual and another part behavioral, success is achieved by answering questions in a way that highlights a person's thinking and communication style with an ease to share examples of previous successes. Demonstrating how to overcome obstacles, specifically by sharing thoughts, reactions and behavior patterns is powerful. It's very easy to describe strengths. However, identifying issues and explaining how they were overcome, because of specific thoughts and reactions will elevate anyone's candidacy over the competition.
We work at keeping our clients grounded, focused and on-purpose. Having the understanding about how to respond, even if you are stuck, will prepare you for the unexpected. Our goal is to transfer decades of hands on knowledge and techniques over to each client that we coach. Results are proven to succeed for senior managers, middle management and even entry level, recent graduates.